Prologue:
I grew up on a disused farm. Once in a thicket / slope / meadow near the old barn, I came across something I considered to have been a star, which had now gone out and fallen to the ground. For a long time I thought that all the stars had a similar construction, a kind of structuring skeleton. In retrospect, I have come to that what I saw must have been a demolished fence, pulled together and thrown into a heap of fencing poles and wire mesh.
--
The work hangs freely from the ceiling, slightly above the floor surface, 3 pieces altogether. They consist entirely of materials intended for painting; oil color, canvas, stretchers, staples and screws (assembling) and wire (suspension). The theme is painting's exalted status, its fall from grace and attempted revitalization. Can the dead be resurrected? Well, some believe this to be true. If so, are these works dead or alive? This is up to the viewer to decide. The works are set in motion by the air flow as someone moves about it: A hint suggesting that the onlooker carries the ability to breathe life into seemingly dead material..
<![if !vml]>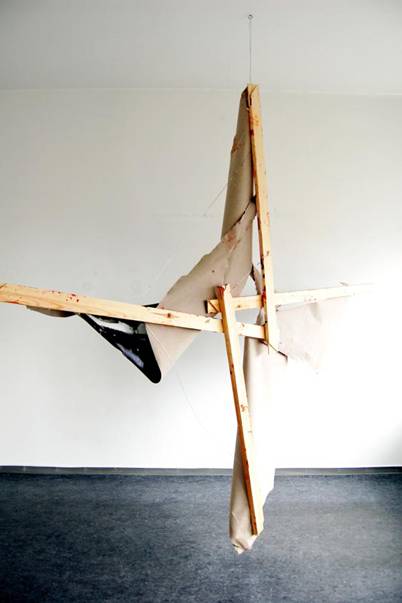 <![endif]>   <![if !vml]>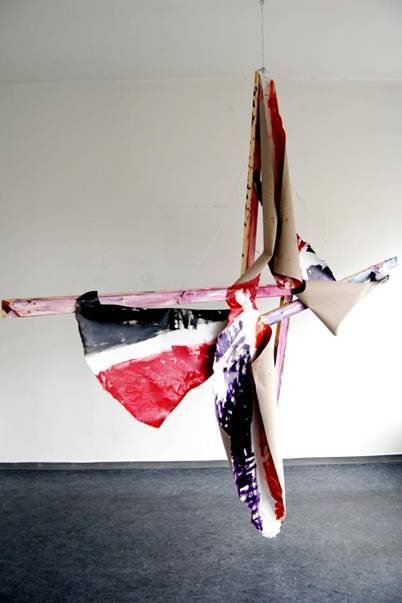 <![endif]>
<![if !vml]>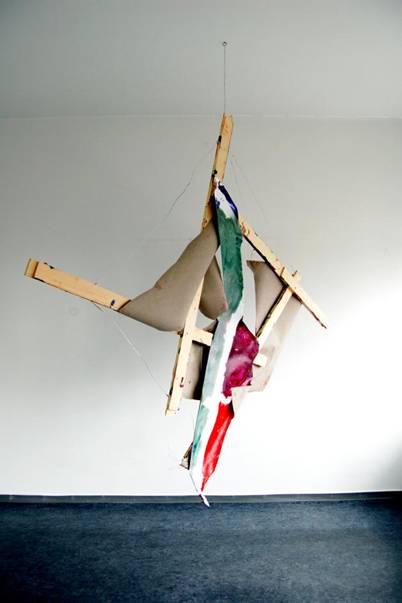 <![endif]>   <![if !vml]>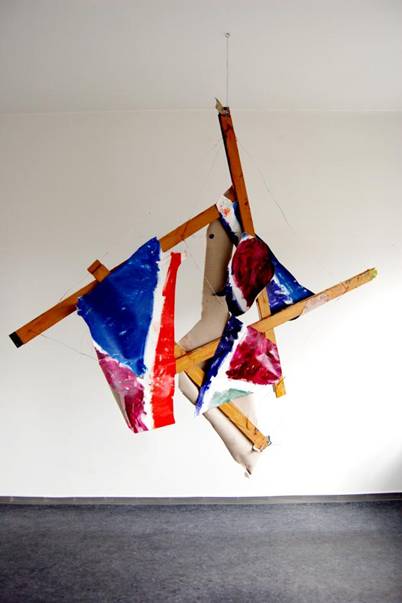 <![endif]>
<![if !vml]>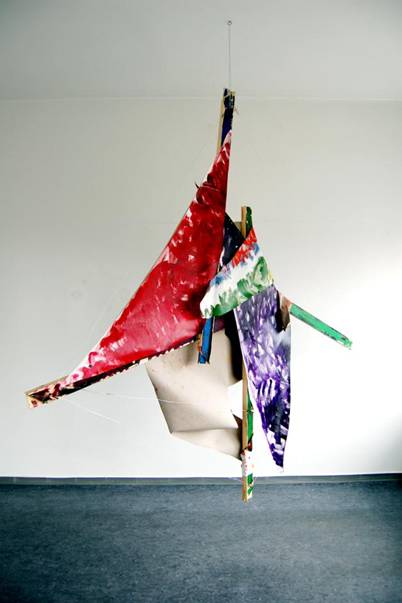 <![endif]>   <![if !vml]>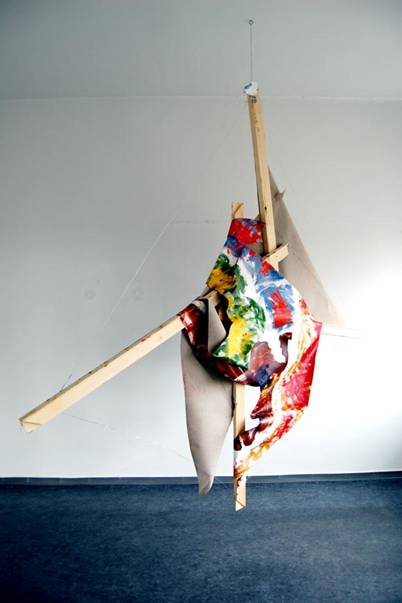 <![endif]>
Fallen Star (attempted resurrection) 1-3 /
Fallen Stjerne (forsøk på oppstandelse) 1-3
Arbeidene henger fritt fra taket, noe over gulvflaten. De består utelukkende av materialer til maleri; oljefarge, lerret, blindrammer, stifter og skruer (sammenføyning), samt ståltråd (oppheng). Temaet er maleriets engang opphøyde status, dets fall og forsøk på gjenoppliving. Kan de døde gjenoppstå? Vel, noen tror det. Er så disse arbeidene døde eller levende? Det er opp til betrakteren å bestemme. Arbeidene settes i bevegelse av luftstrømmen når noen beveger seg rundt det: Et hint om at det alltid er betrakteren selv som har mulighet til å puste liv inn i et tilsynelatende dødt materiale..
Prolog:
Jeg vokste opp på en nedlagt gård. En gang i et kratt/skråning/eng i nærheten av den gamle låven kom jeg over noe jeg anså for å ha vært en stjerne, men som nå hadde slukket og falt til jorden. Lenge tenkte jeg at alle stjernene hadde en lignende konstruksjon, et slags strukturerende skjelett. I ettertid har jeg kommer til at det jeg hadde sett var et nedrevet gjerde, rasket sammen og slengt i en haug av gjerdestolper og netting.